AirTimes
Broadcast stations and schedules
Listed below are the stations & times you can listen to "A Place of Grace" on your radio.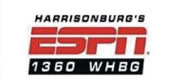 Sundays from 8:30 – 9:00 a.m. Sundays from 9:00 – 9:30 a.m.
Sponsored by Thomas House Restaurant, Dayton, Myers Ford, Elkton, Landes Heating and Air Conditioning, Harrisonburg, Shickel Corporation, Bridgewater, Micheal's Auto Body, Harrisonburg and Drs. Schubert, Marsh and Pence, Dayton, VA.
Sundays from 7:30 – 8:00 a.m.
Sponsored by Dan & Nancy Brubaker of Blue Stone Land Company
Saturdays from 1:00 - 1:30 p.m.
Sundays at 11:30 a.m.
12:00-12:30 pm Sun

6:30-7:00 pm Wed

4:30-5:00 pm Mon

12:30-1:00 pm Sat

7:30-8:00 am Fri

4:30-5:00 pm Mon

6:00-6:30 pm Wed